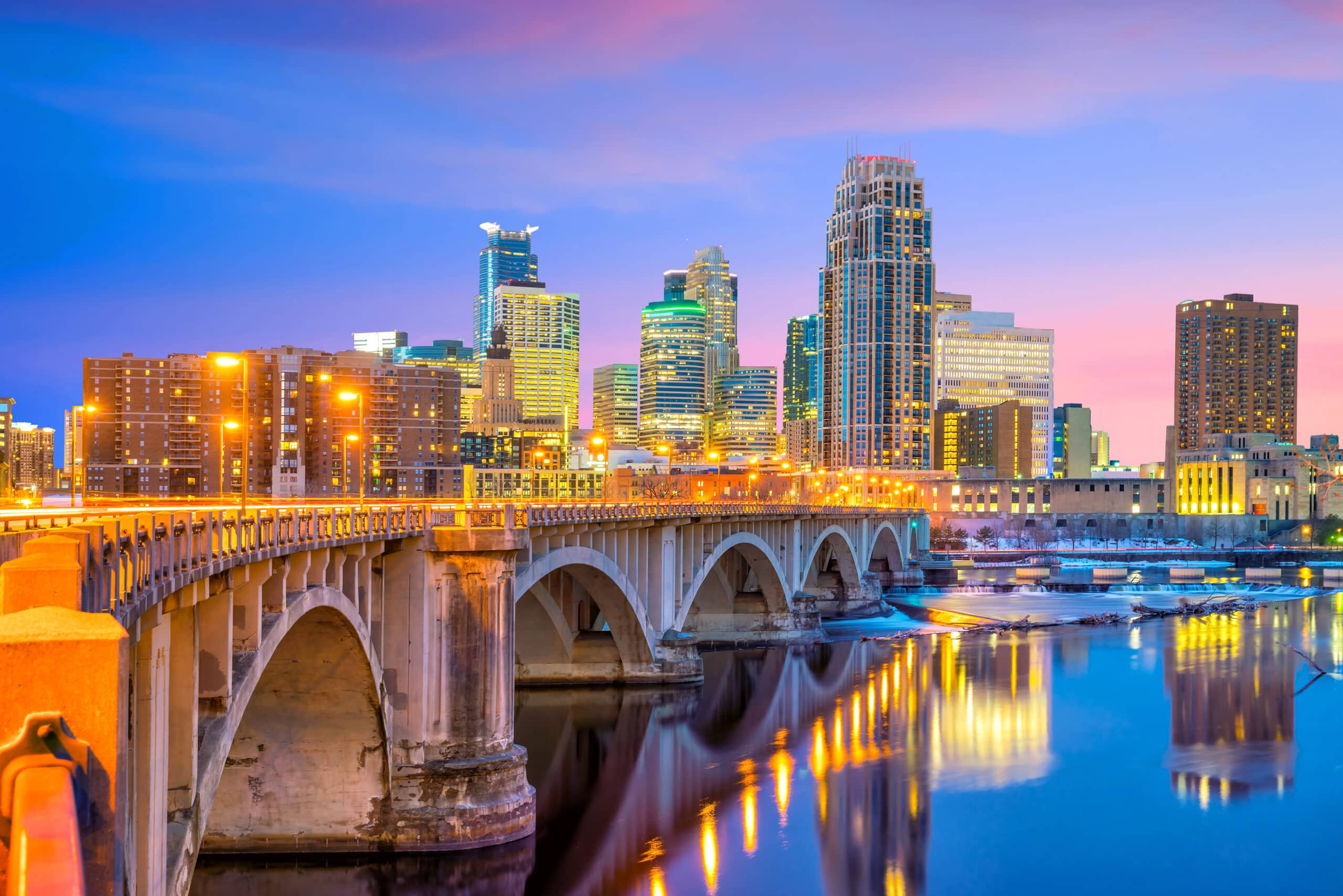 Visit Minneapolis
NACC's 46th National Child Welfare Law Conference will be at the Hyatt Regency Minneapolis, MN, August 10–12, 2023. While you're there, be sure to check out all that the city has to offer!
FESTIVALS
Downtown Minneapolis Street Art Festival – August 12-13
LOCATIONS/MONUMENTS
George Floyd Square Chicago Avenue and E 38th Street, Minneapolis, MN
A place of remembrance, art, activism, community support.
Stone Arch Bridge 100 Portland Ave. Minneapolis, MN
Offers a panoramic view of St Anthony Falls and is recognized as a National Civil Engineering Landmark.
Minnesota State Capital 75 Rev Dr Martin Luther King Jr Blvd, Saint Paul, MN
Beaux arts government building open daily to the public.
Mall of America 60 East Broadway, Bloomington, MN
Since opening its doors in 1992, Mall of America has revolutionized the shopping experience of tens of millions of visitors a year. A leader in retail, entertainment and attractions, Mall of America is one of the top tourist destinations in the country and is known around the world.
ZOOS/PARKS
Loring Park, right off the path from the Hyatt Regency Minneapolis. Enjoy a morning walk!
Minneapolis Sculpture Garden 725 Vineland Place, Minneapolis, MN
The Minneapolis Sculpture Garden is free, requires no tickets for admission, and is open from 6 am to 12 midnight every day. Since opening in 1988, the Garden has welcomed millions of visitors, showcasing works from the Walker Art Center's renowned collections of modern and contemporary art in the setting of an urban park.
Gold Medal Park Second Street and Eleventh Avenue South, Minneapolis, MN
Gold Medal Park is in the heart of the Minneapolis Mill District, at one time the flour-milling capital of the world and now a vibrant cultural center and mixed-use urban neighborhood.
Minnehaha Regional Park 4801 S Minnehaha Drive Minneapolis, MN
One of Minneapolis' oldest and most popular parks, Minnehaha Regional Park features a majestic 53-foot waterfall, limestone bluffs and river overlooks, attracting more than 850,000 visitors annually.
Eloise Butler Wildflower Garden and Bird Sanctuary Theodore Wirth Pkwy
Minneapolis, MN
Enjoy spectacular seasonal displays of native wildflowers in woodland, wetland and prairie areas. Each area creates a different habitat that fosters different types of plants, animals and birds.
Bloom Island Park 724 Sibley St NE, Minneapolis, MN
Riverside park featuring a playground, a boat dock & restrooms, plus walking/biking paths.
Minnesota Zoo 13000 Zoo Boulevard Apple Valley, MN
Cutting-edge exhibits provide exciting experiences with animals and their habitats introducing guests to species from around the globe. Education programs engage audiences at the Zoo, throughout the region, and around world.
Sea Life at Mall of America Level One, Mall of America, 120 East Broadway East Side, Bloomington, MN
Sea Life at Mall of America is a public aquarium located in the Mall of America in Bloomington, Minnesota, United States. The 1.3 million-US-gallon aquarium contains thousands of aquatic creatures, including sea turtles, sharks, sawfish, stingrays, jellyfish and seahorses
MUSEUMS
Walker Art Center 725 Vineland Pl, Minneapolis, MN
One of the most celebrated art museums in the country, the Walker Art Center is known for its innovative presentations and acclaimed collections of contemporary art across the spectrum of the visual, performing, and media arts. The Walker is pleased to offer on-site and virtual guided tours for groups interested in learning about contemporary art.
Minneapolis Institute of Art 2400 Third Avenue South Minneapolis, MN
Whether it's a masterpiece by a celebrated artist, a contemporary work that speaks to our times, or the creation of someone whose talents were previously overlooked, Mia collects artworks that reflect the full breadth of human creativity
Paisley Park, 7801 Audubon Rd, Chanhassen, MN
Prince's home and recording studio. Pre-purchased, timed tickets required.
The Bakken Museum 3537 Zenith Ave S, Minneapolis, MN
Inspires a passion for innovation by exploring the potential for science, technology, and the humanities to make the world a better place
Mill City Museum 704 South Second St.
Located on the Mississippi riverfront in the remains of what was once the world's largest flour mill, the Mill City Museum has been touted as the most explosive and best-smelling museum around.
THEATERS
Riverview Theaters 3800 42nd Ave South, Minneapolis, MN
Presenting everything from Hollywood's biggest blockbusters to niche art films, all in a classic auditorium featuring new high-backed rocker seats and digital sound.
Guthrie Theater 818 South 2nd Street Minneapolis, MN
The Guthrie Theater engages exceptional theater artists in the exploration of both classic and contemporary plays, connecting the community we serve to one another and to the world.
Orpheum Theater 910 Hennepin Avenue Minneapolis, Minnesota
The Orpheum Theatre opened in 1921 as a vaudeville house and then converted to a movie house and it now houses a wide range of plays.
State Theater
The State Theatre is a historic theatre in Minneapolis, Minnesota, USA. It is one of four restored theaters in the Hennepin Theatre District
RESTAURANTS
Hai Hai $$ 2121 University Ave NE, Minneapolis, MN
Colorful spot serving Vietnamese street food and craft cocktails in trendy, lively surroundings.
Bar La Grassa $$$ 800 N Washington Ave, Minneapolis, MN
Acclaimed Italian eatery presenting pastas, small plates & a long wine list in a bustling space
Soul Bowl $$ 520 N 4th St, Minneapolis, MN
Cherry counter-serve restaurant dishing up bowls or plates of modern soul food with vegan options
Rosalia $-$$ 2811 W 43rd St, Minneapolis, MN
Fast-Casual Mediterranean Pizzeria with a fun atmosphere
Alma $$$ 528 University Ave SE, Minneapolis, MN
Modern new American fare with locally sourced ingredients & imaginative cocktails. Specializing in seasonally inspired prix fixe dinners and wine pairings
Demi $$$$ 212 N 2nd St Suite 100, Minneapolis, MN
Sophisticated, contemporary restaurant serving creative cuisine in a petite, sleek setting
Tilia $$ 2726 W 43rd St, Minneapolis, MN
Warm, sophisticated neighborhood bistro offering creative New American plates, brunch & craft beers
Martina $$$ 4312 Upton Ave S, Minneapolis, MN
Modern Argentinian food & craft cocktails served in chic, airy surrounds
Our Kitchen $ 813 W 36th St, Minneapolis, MN
Simple restaurant serving traditional American breakfast & lunch grub including omelets & coffee.